Unity and Dialogue
Journal for Ecumenical Theology and Interreligious Dialogue
ISSN 2335-4127 (2385-8907 online)
Unity and Dialogue is a scientific journal of the Stanko Janežič Institute of Dogmatic, Fundamental and Ecumenical Theology and of Religiology and Dialogue at the Faculty of Theology of University of Ljubljana with recension.
The journal has been published since 1924. The journal is a new series of journals Kraljestvo božje year and V edinosti. Unity and Dialogue, year 68, was issued in 2013.
In the media registry records kept by the Ministry of Culture, it is entered under sequence number 1818. It is published twice a year. It publishes original and reviewed scientific articles and contributions in the field of ecumenism and inter-religious dialogue related to world religions, with an emphasis on Christian religions, Judaism, and Islam. A manuscript sent by a co-worker to the address of the journal Edinost in dialog is a text which has not been sent at the same time or earlier to any other address and is to be published in the journal for the first time. Detailed instructions to authors are provided in each issue. Published works in the Edinost in dialog are not paid for with a fee. Manuscripts and contribution applications should be sent in electronic form to the following address: edinost-dialog@teof.uni-lj.si.
The journal is indexed in:
ATLA Religion Database

(American Theological Library Association)

DOAJ (Directory of Open Access Journals)
ERIH PLUS (European Reference Index for the Humanities)
IxTheo (Index Theologicus)
RTA (Religious and Theological Abstracts)
SCIMAGOJR rank: Q1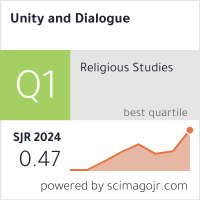 Open access statement:
Unity and Dialogue is an open access journal which means that all content is freely available without charge to the user or his/her institution. Users are allowed to read, download, copy, distribute, print, search, or link to the full texts of the articles, or use them for any other lawful purpose, without asking prior permission from the publisher or the author.
Copyright notice:
Except when otherwise noted, articles in the journal Unity and Dialogue are published under the terms and conditions of the Creative Commons Attribution 4.0 International License (CC BY 4.0 International).

Edited and published by

Faculty of Theology, University of Ljubljana, Maribor Unit, Stanko Janežič Institute of Dogmatic, Fundamental and Ecumenical Theology and of Religiology and Dialogue

Editor in Chief

Samo Skralovnik (Faculty of Theology, University of Ljubljana, SI)

Editorial Board

Hans-Ferdinand Angel (Institut für Katechetik und Religionspädagogik, University of Graz, AT); Nikolaos Asproulis (Center for the Study of Religion and Conflict, Volos Academy for Theological Studies, GR); Theodor Dieter (Institute for Ecumenical Research, Strasbourg, FR); Nina Ditmajer (Institute of Slovenian Literature and Literary Studies, ZRC SAZU, SI); Bogdan Dolenc (emer., Faculty of Theology, University of Ljubljana, SI); Jörg Ernesti (Catholic Theological Faculty, University of Augsburg, DE); Stanko Gerjolj (emer., Faculty of Theology, University of Ljubljana, SI); Riccardo Di Giuseppe (Institut Catholique de Toulouse, FR); Nedžad Grabus (The Faculty of Islamic Studies, University of Sarajevo, BIH); Michael Howlett (School of Humanities, Waterford Institute of Technology, IE); Stanko Jambrek (Biblical Institut of Zagreb, HR); Marko Jesenšek (Faculty of Arts, University of Maribor, SI); Anton Konečný (Catholic University in Ruzomberok, SK); Edvard Kovač (emer., Faculty of Theology, University of Ljubljana, SI); Fanika Krajnc-Vrečko (emer., Faculty of Theology, University of Ljubljana, SI); Avguštin Lah (emer., Faculty of Theology, University of Ljubljana, SI); Ivan Macut (Catholic Faculty of Theology, University of Split, HR); Simon Malmenvall (Faculty of Theology, University of Ljubljana; Faculty of Law and Business Studies Catholic Institute, SI); Maksimilijan Matjaž (Faculty of Theology, University of Ljubljana, SI); Tonči Matulić (Catholic Faculty of Theology, University of Zagreb, HR); Jožef Muhovič (Faculty of Theology, University of Ljubljana; The Academy of Fine Arts and Design, University of Ljubljana, SI); Mari Jože Osredkar (Faculty of Theology, University of Ljubljana, SI); Mateja Pevec Rozman (Faculty of Theology, University of Ljubljana, SI); Stanislav Slatinek (Faculty of Theology, University of Ljubljana, SI); Marija Stanonik (emer., The Institute of Slovenian Ethnology SRC SASA, SI); Vinko Škafar (emer., Faculty of Theology, University of Ljubljana, SI); Ivan Janez Štuhec (emer., Faculty of Theology, University of Ljubljana, SI); Marjan Turnšek (Faculty of Theology, University of Ljubljana, SI); Vladimir Vukašinović (Faculty of Orthodox Theology, University of Belgrade, RS); Juraj Zečević (Catholic Faculty of Theology, University of Zagreb, HR)

Address

Edinost in dialog
Slomškov trg 20
SI-2000 Maribor

Web Site

E-mail
Documents: