Theological Quarterly
Ephemerides theologicae

ISSN 1581-2987
(printed version 0006-5722)

Bogoslovni vestnik is a journal published by members of the Faculty of Theology at the University of Ljlubljana. The journal has been published since 1920. Its predecessor was the scholarly journal Voditelj v bogoslovnih vedah (Guide to Theological Sciences), published between 1898 and 1916. The journal is published four times a year. Bogoslovni vestnik is entered as number 565 in the media registry, which is regulated by the Ministry of Culture of the Republic of Slovenia. Bogoslovni vestnik publishes academic articles and reviews in the field of theology and other related disciplines. Articles are mainly in Slovenian, but can also be published in Latin, English, French, German, and Italian. Manuscripts contributed by associates are original and have not been published before being submitted to the Bogoslovni vestnik. Manuscripts should be sent to: Bogoslovni vestnik, Poljanska 4, 1000 Ljubljana; in e-form to: bogoslovni.vestnik@teof.uni-lj.si.
Scopus metrics:
CiteScore 2020: 1.6
SJR 2020: 0.421
SNIP 2020: 1.182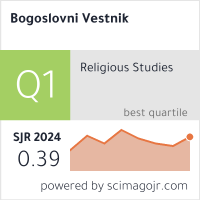 The journal is indexed by:
Edited and published by
Teološka fakulteta Univerze v Ljubljani
Editor in chief
Robert Petkovšek
Associate Editor
Vojko Strahovnik
Editorial Board
Irena Avsenik Nabergoj, Igor Bahovec, Roman Globokar, Slavko Krajnc, Maksimilijan Matjaž, Jožef Muhovič, Mari Jože Osredkar, Andrej Saje, Barbara Simonič, Vojko Strahovnik, Miha Šimac, Miran Špelič, Marjan Turnšek, Janez Vodičar
Editorial Council

Metod Benedik, Erwin Dirscherl (Regensburg), Emmanuel Falque (Paris), Vincent Holzer (Paris), Janez Juhant, Jože Krašovec, Nenad Malović (Zagreb), Zorica Maros (Sarajevo), Mladen Parlov (Split), Didier Pollefeyt (Leuven), Vladislav Puzović (Belgrade), Miran Sajovic (Rome), Walter Schaup (Graz), Józef Stala (Kraków), Anton Stres, Grzegorz Szamocki (Gdańsk), Ed Udovic (Chicago), Michal Valčo (Žilina), Rafko Valenčič, Vladimir Vukašinović (Belgrade), Karel Woschitz (Graz)
Address
Bogoslovni vestnik
Poljanska 4
SI - 1000 Ljubljana
Web address
http://www.teof.uni-lj.si/bv.html
E-mail
bogoslovni.vestnik@teof.uni-lj.si
Documents
Subscription and informations
Bogoslovni vestnik - General Presentation PDF/DOC
Editorial Policies; Publication Ethics and Malpractice Statement PDF
Application form for publication of an article DOC
Brief Guidelines for Authors PDF
Open Access
The journal Bogoslovni vestnik publishes its articles under the terms of the Creative Commons Attribution 4.0 International License, as specified here.

Sources of support
The journal Bogoslovni vestnik is supported by Javna agencija za raziskovalno dejavnost RS / Slovenian Research Agency